July 4th, 2014: You are Invited to Ride & Celebrate Freedom with Us!
Vista Motorcycle & the American Legion Post 365 invite you to join us in honoring local Vets & Military Hero's the morning of July 4th, 2014  
Register to Ride & Choose Your Commemorative T-shirt for the 3rd Annual Freedom to Ride Event
Not riding but want to support the cause? You can!  Simply order a shirt or do a straight donation.

Donations of $25 and up are greatly appreciated. Click here for  donation button  and shirt ordering details. 
July 4th, 2014 Event Details: 
9 am -10 am:  Ride to Vista Motorcycle for the Anniversary Celebration, Continental  Breakfast & Stage for Group Ride
10 am -2 pm: Start Group ride to 4 Local Military Hospitals & Veterans Homes to Honor Local Hero's with Members of the American Legion 365
2 pm- 5 pm:  Your choice to go enjoy your family time for July 4th celebrations or…return to the American Legion Post 365  (across the street from Vista Motorcycle) & Celebrate our Freedom with Food, Fun, & Entertainment.  This ride and event wraps up in time to also enjoy local fireworks displays to round out your night.
Last year we had 85 riders visit Veterans.  Our goal this year: at least 100 riders to visit four hospitals. 
In honor of all the Vets who served our country and are unable to be 'out and about' on that day, the shop and riders from the local American Legion posts and riding clubs will be dedicating their morning to ride down to the Veterans Hospital in La Jolla, CA and on Camp Pendleton. This ride is open to Military and Non-Military members. We just need your RSVP to coordinate with the hospitals. Ride is also available for those who wish to follow in a car, truck or van.
We are helping to collect cash donations to support the cost of the daily supplies and toiletries our wounded Vets need. The riders who join us that day will be able to bring down the goody bags of supplies that are being put together by the American Legion.
 This first picture is from our first ride in 2012: we had 55 riders attend.
The second picture is from our second ride in 2013: we had 85 riders attend.
To see Pics of the 3rd Annual Freedom Ride Click Here.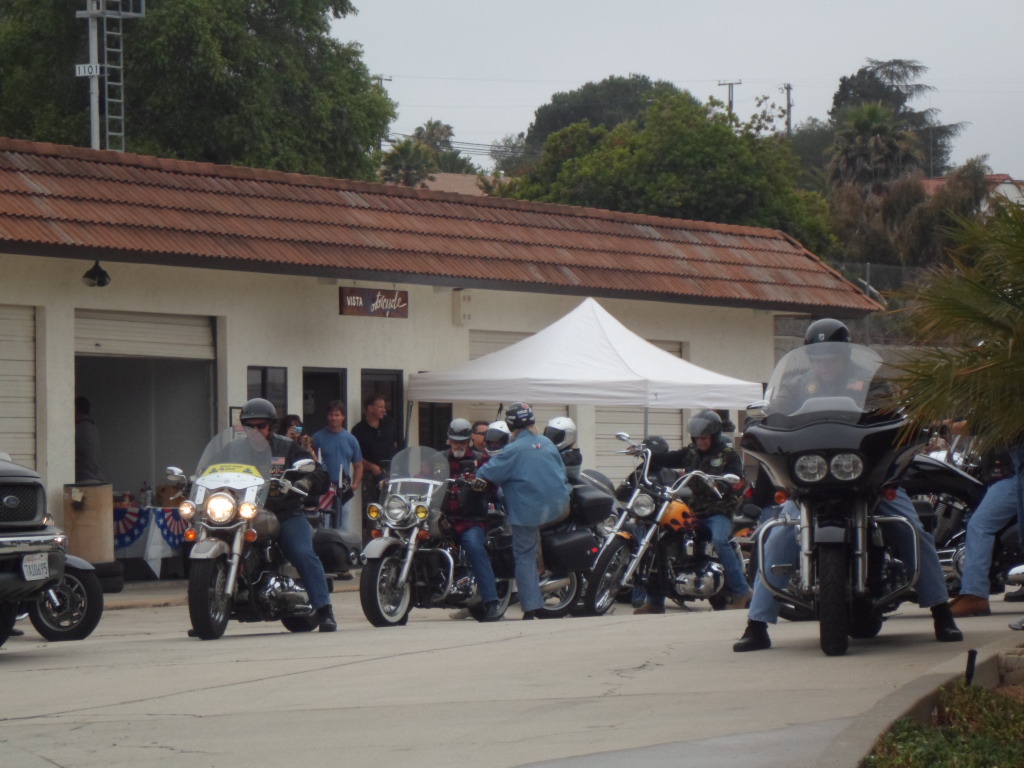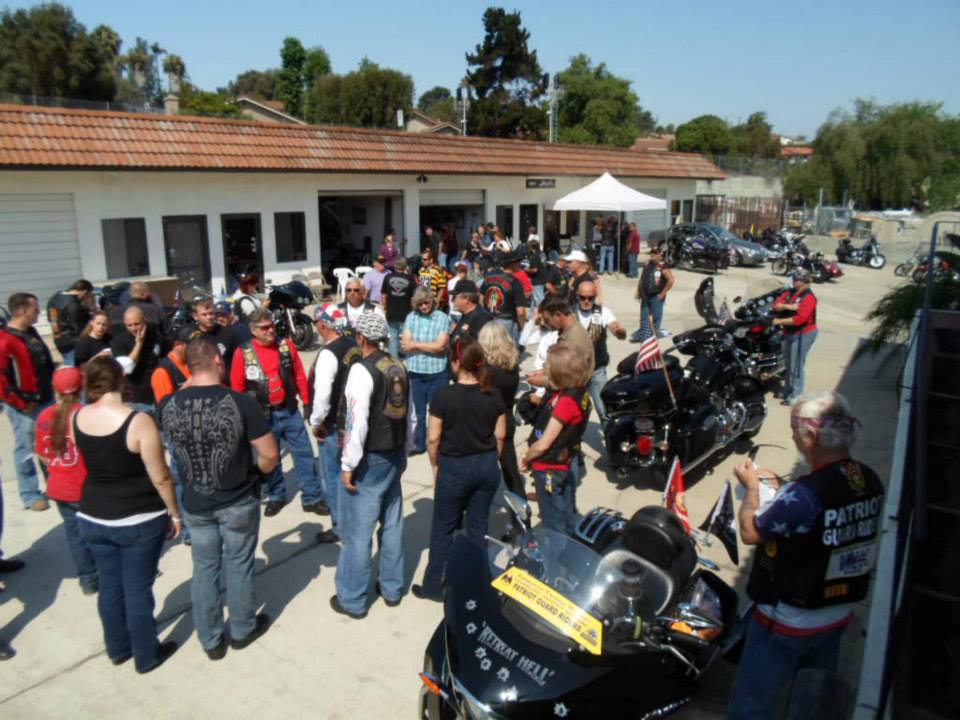 Our goal this year: 100 riders to visit 4 or more hospitals.
We will break down the riders into smaller groups of 15 and roll out every 5 -8 minutes on the ride routes.
When you register you will get more details on ride routes.* (Please keep in mind we may have to make last minute adjustments to the destination locations based on final confirmation with the hospitals.) We will keep you posted as we get closer to the event.
At all the parts of the event day, you'll get to connect with, support and meet new people in North County who also care about:  Freedom of Entrepreneurship, Freedom to Ride and Freedom overall for United States of America.
There will be giveaways and goodies at this event as it is also the 3rd Anniversary of the Grand-Reopening Vista Motorcycle too!
At all the parts of the event day, you'll get to connect with, support and meet new people in North County who also care about:  Freedom of Entrepreneurship, Freedom to Ride and Freedom overall for United States of America.
Feedback from our riders after the  2013 2nd Annual Freedom Ride:
"I was very excited and happy, when the different riders from the different areas, came and volunteered their time to join us and spend some time with our local heroes who spend so much of their time to fight for our freedom."

"If my grandfather was still alive he would be very happy about how veterans are treated in this day and age. Growing up with my grandfather, he used to tell me horror stories on how people would throw trash and other stuff at them when they returned from war.  This event showed care and concern for our veterans."

"The very next Friday after the ride, I ran into Boyd Applegate. He is one of the riders who joined us for our 2nd Annual Freedom Ride. He was telling me about one of his experiences from the event that was very heart warming. It also gave me more insight about how much our veterans are devoted to, and love, our country."

"At the veterans home in Chula Vista the National Anthem was playing and one of our veteran men who has Parkinson's was still moved to stand up and salute. He was shaking the whole time.  He used all his heart and energy to stand up and salute while singing our nations song. It was so heart warming it brought tears to so many of our eye's including me."
We are very thankful for the Sponsors who are making this event happen.
Be sure to click on their logos to learn more about them and how they bring value to the local community with their products and services.  
Special Thanks to Our Supporters for this event:
Good Neighbor Tattoo
Russ Brown Motorcycle Attorneys
Jamie Christopher, SJC Financial Services, Inc.
7 Eleven Civic Center
Dr. Ginger Hansen, DDS
Frogy's Donuts & Bakery
Norm Venturi
Henry Lechuga
Allen's Alley Cafe
IHOP
Sycamore Starbucks
Old California Coffee House and Eatery
Debby Stout
Laura Soto
Janet Sandquist